Keep Up Your Workplace With B&B Cleaning
As a business owner, you want to make a great first impression on potential clients. Additionally, you and your employees want to enjoy the place you work. One way to ensure you're putting your best foot forward is with professional window cleaning services. At B&B Cleaning, we're experts in high-rise window washing, and we would be honored to be your go-to choice for all of your exterior commercial cleaning needs.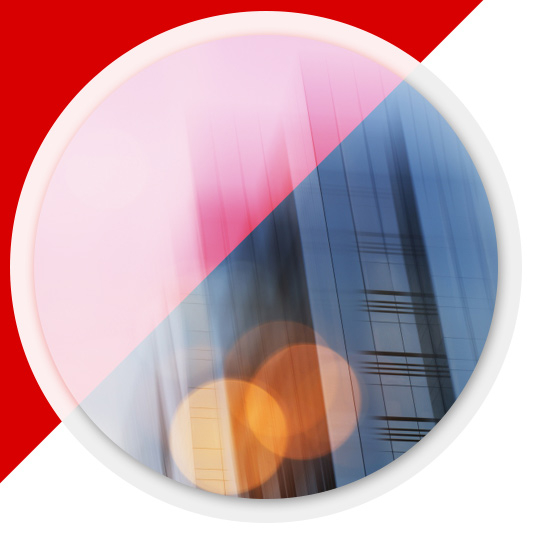 What We Offer Your Building:
Improved window clarity

Better quality of life for employees

Better appearance to potential clients, customers, and partners

Maximum natural lighting
Exceptional High-Rise Window Washing
At B&B Cleaning, our team brings more than 30 years of industry experience to every job we complete. Our safety protocols, techniques, and skills are second to none. When you choose us for your high-rise cleaning needs, you can rest assured that we offer professional, quality, and friendly service that you can count on. When our work is finished, you'll enjoy an enhanced work environment with a lighter and brighter look and feel.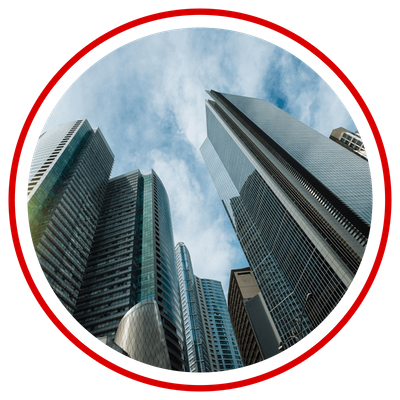 The Benefits of High Rise Window Cleaning
Over time, it's easy to look over the luster that's been lost by your high rise building — dust settles onto the building from the carrying winds and the minutiae of everyday life takes your eyes off of it. Then one day, you realize the windows are dingy and the rooms aren't quite as bright as they used to be. While it may be the first time you've noticed it, it won't be the first impact it's had on you or the other people in the building.
We spend a large percentage of our adult lives at work, and the environment around us can play a huge role in how we feel day-to-day. Giving your employees or tenants clearer windows offers them more sunlight and a better view from their office. After all, there's not much sense in having a view if it's constantly smudged or shaded by dust.
On top of the aesthetic value that high rise cleaning and window washing afford your building, for the tenants, employees, and passerbys, is the physical value it brings to your windows. Windows that become caked in dust or debris can be more likely to break or develop leaks in between the seams of connecting windows. While this is rare, it can happen in a building that has neglected window washing for years.
If you need high rise cleaning in the Orlando area, then B&B Cleaning out of Debary wants to be your choice. Once you see the job we do, we're certain that you'll be calling us for your next cleaning. We can even create a plan customized to you and your building's needs, so that you can be sure it gets the cleaning it needs on a regular basis.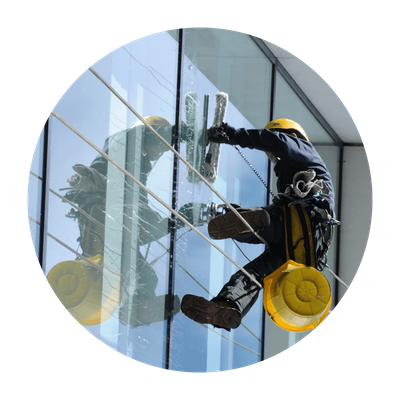 High-Rise Cleaning Process
When you work with the professionals in commercial building services, you know that you're going to be getting high-quality services. But what about the process of getting these services completed? When you work with B&B Cleaning, we'll make the process easy and worry-free, so you can focus on what's most important: running your business smoothly for your customers and employees.
Your first step in obtaining high-quality high-rise cleaning services for the best window cleaning in central Florida is to reach out to us. Either call us directly or fill out the form on our contact us page to schedule an appointment to speak with an experienced service professional. From there, we'll get to know more about you, your business, your budget and expectations for your service, and the scheduling parameters that work best for you. After that, we'll take care of everything, from getting technicians onsite and working, to communicating with you if there's anything we need or have questions about. When you work with us, you know that all you need to do is sit back and enjoy great commercial window cleaning services and beautifully clean views.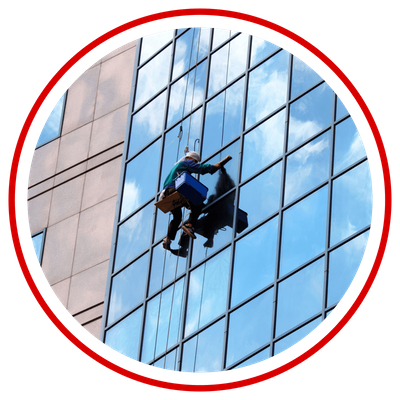 Why You Should Work With B&B
At B&B Cleaning, we understand that who you work with to get a clean and beautiful looking building is important to you, and you don't want to work with just anyone. That's why we go the extra mile to ensure that we provide high-quality services and only the best customer service to every business we work with.
Our team specializes in high-rise building cleaning, and every one of our members is trained in the skills they need to ensure the job is done right the first time, every time. In addition to this dedication to excellence, we are committed to going above and beyond your expectations to make sure that you're satisfied with your service. We have over 30 years of industry experience to draw on, so you know that we're professionals in window cleaning. In addition to our experience, you know you can trust us based on our great reviews online from past satisfied customers. Still unsure about us? Learn more about our team, our values, and our commitment to you on our About Us page, or reach out with any questions you may have.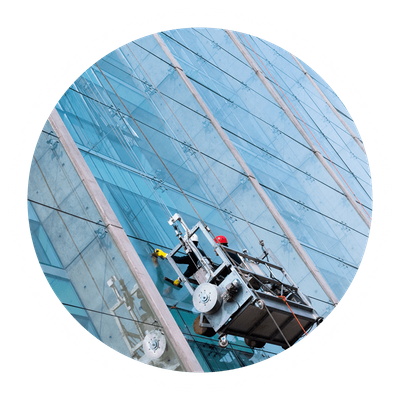 Safety is Our Standard
When it comes to cleaning high-rise buildings, there are many different factors involved that may create unsafe conditions for either your team or ours. That's why our team is expertly trained in safety standards, protocols, and techniques to ensure that everything goes smoothly and your buildings' windows are kept clean and crystal clear. With our professional quality work that is focused on making your customer experience the best in the industry, we're confident that you'll be satisfied with our work, but if you're not, you can always let us know! We'll go the extra mile to ensure that your expectations are met or exceeded for a great customer experience, every time.
B&B Cleaning also offers a wide range of other services for both commercial and residential customers and locations. Learn more about our services by browsing our website today! If you'd like tips and tricks on how to keep your business location looking its best, articles about professional cleaning services, and more, read through our blog! We also offer a gallery of our past work in both commercial and residential settings so you can see the difference our team makes for yourself!
Make an Appointment Today
Contact us today to schedule a cleaning appointment.
Reach Out For High Rise and Window Washing in Orlando
Are you interested in working with B&B Cleaning? Contact us today to learn more about our high-rise window washing services and schedule your first appointment. A friendly member of our staff would be happy to speak with you and create a plan to meet your specific needs. We look forward to hearing from you!